The Top South Hadley Electrician: Electrical Service Pros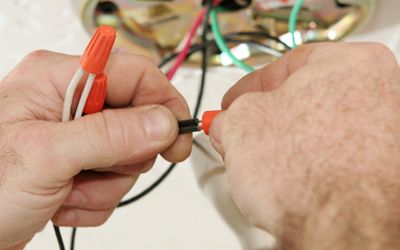 For any repairs that are more complicated than changing a light switch, you should always hire a professional South Hadley electrician. Attempting to do any electrical work on your own can easily result in serious injury or detrimental damage to your property.
Even if you are able to complete the electrical repairs without any problems, the smallest mistakes can be very dangerous. Faulty electrical wiring, in fact, is the number one cause of house fires in the United States, according to the National Fire Protection Association. We'll work to make sure that your electrical isn't just functioning as well as possible, but also that it's completely safe.
Our South Hadley electricians can help to ensure your home is completely safe with an electrical safety inspection. Any part of the system that's old, damaged, or outdated can cause your electricity's performance to decline, of course, but it can also be hugely hazardous. We'll look for anything that could be causing trouble and may lead to a dangerous situation, and we'll discuss how to move forward with you.
South Hadley Home Generators
Keeping your home as safe and comfortable as it needs to be is a huge priority. And during an electrical outage, this can be nearly impossible. Our South Hadley electricians can professionally install a home generator so that any time anything causes a power outage for your home, you'll be ready. Going without power can cause your life to come to a complete halt, but with a home generator, you'll always be able to quickly get back on track.

Recent Articles
4 Common Electrical Panel Complications

Problems with electrical systems can be difficult and even dangerous to diagnose, so scheduling electrical repairs with experienced electricians is the way to go if appliances, outlets, or electrical panels are on the fritz in Hadley homes […]

Read More


Electrical Safety Inspections – Safety is Priority Number One

A common mistake people make is thinking that their general home inspection provides enough data to make a fair assessment about the current state of the electrical system. This simply is not true, and when it comes to your residential electrical work, you never can be too safe. A home inspector has a very important […]

Read More
If you are looking for an South Hadley electrician, please call us today at 413-642-6626 or complete our