Panel Upgrades – Upgrade Your Home's Electric Grid!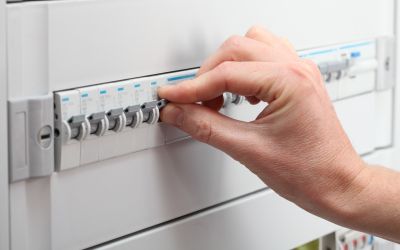 If you are contemplating a major remodeling project, the addition of a room or garage, or a new kitchen you should consider a panel upgrade for your Massachusetts home.
Thirty years ago, the average new Massachusetts home was equipped with a 60 amp electrical service connected to a screw-in fuse panel with two fuse blocks. The common distribution was a fuse block for the stove and one for the hot water tank. The balance of the homes electrical needs were served by six, 15amp screw-in fuses.
Twenty years ago the average new home was equipped with a 100 amp electrical service and some of them used the latest in technology, circuit breakers. Now the average home is equipped with a 200 amp electrical service with a distribution panel handling up to 40, 15amp circuit breakers serving the electrical needs of the home.
Americans are electrical power hungry. Today our air conditioning systems take more power than an entire home did 30 years ago. A kitchen, in a new home, will usually be equipped with a number of receptacles capable of supplying more than 60 amps just to counter top appliances. Adding receptacles does not increase the available power if they are looped from other receptacles. To get more power to a location the circuit should run directly from the distribution panel.
There are two tell tale signs that your panel is overloaded.
First, visually look at the panel. Are the entire breaker spaces filled up? There should be some spots for extra breakers. You never want to have a panel that has all the breaker spaces taken. That would be like driving your car with the accelerator all the way down. (Peddle to the metal). Sure, you're going to get there, but what will that do to the engine? It will eventually quit on you.
Second, are the lights dimming when you turn on an appliance, such as a vacuum or hair dryer? This means you are maxing out your system. This also causes surges which will destroy sensitive electronics, computers, TV's, stereos, etc.

Recent Articles
4 Common Electrical Panel Complications
Problems with electrical systems can be difficult and even dangerous to diagnose, so scheduling electrical repairs with experienced electricians is the way to go if appliances, outlets, or electrical panels are on the fritz in Hadley homes […]
Read More
Electrical Safety Inspections – Safety is Priority Number One
A common mistake people make is thinking that their general home inspection provides enough data to make a fair assessment about the current state of the electrical system. This simply is not true, and when it comes to your residential electrical work, you never can be too safe. A home inspector has a very important […]
Read More
If you are experiencing any of these symptoms, or just generally have a concern about the condition of your electrical panel, call Electrical Service Pros, Inc., and have a qualified electrician inspect your panel. Please call 413-642-6626 or complete our