Bathroom & Ceiling Fans In Massachusetts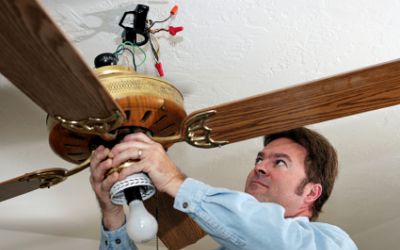 Ceiling and bathroom fans are two important features that are found in most modern homes today, and they each provide you and your family with their own unique share of benefits. Much like any other the other mechanical devices around your home, however, they tend to have things go wrong every once in a while, and when that happens our team of professional Massachusetts electricians can be on the scene right away to fix any issues that might be present, and get your ceiling or bathroom fans working like they should once more. Are any of your bathroom or ceiling fans throughout your home making odd noises, or just not performing like they usually do? If that's the case, give our team of professional electricians a call today and let us help you restore all aspects of your home to their normal functionality.
Here at Electrical Service Pros, our professional Massachusetts electricians take their jobs very seriously, and while your ceiling and bathroom fans might not seem like a crucial component to your home's overall function, they do play a very important role when it comes to both safety and comfort. It is our goal to ensure that in every service we provide, you and your family get the high quality results you need to restore your home to complete functionality, safely and efficiently. If you have any questions about our full line of ceiling and bathroom fan services, or if you would like to schedule an appointment for service with one of our specialists, give us a call today. Our team of experts are standing by and always ready to assist.
Bathroom Fan Installation & Repair
While turning on your bathroom fan might seem like more of a courtesy than a requirement, you might be surprised to find out that your bathroom fan actually plays an important role in helping to keep your bathroom both clean and safe. Your bathroom fans are responsible for pulling the moisture from the air inside your bathroom and safely venting it outside, preventing the buildup of mold, mildew, and many other contaminants, as well as helping to ensure that your bathroom floor doesn't become a hazard once that moisture falls out of the air and settles on your floors. If any of your bathroom fans aren't working properly, or you need a new fan installed, our team of professional Massachusetts electricians are here to help.
Ceiling Fan Installation & Repair
Despite how it might seem, installing a new ceiling fan, or repairing your old one is a fairly complicated process, and isn't something just anyone should attempt. Whenever electricity is involved, it is always better to entrust the work to a team of certified specialists like our team of experts here at Electrical Service Pros. With our help, we can help you get your old ceiling fans working like new once more. On the other hand, if you are ready for something new, our team of professional electricians would be happy to go over the various options available to you and help you find and install the right one for your home.

Recent Articles
Electrical Safety Inspections – Safety is Priority Number One
A common mistake people make is thinking that their general home inspection provides enough data to make a fair assessment about the current state of the electrical system. This simply is not true, and when it comes to your residential electrical work, you never can be too safe. A home inspector has a very important […]
Read More
If you need reliable bathroom or ceiling fan services, call our electricians today at 413-642-6626 or complete our