Why Hire Us As Your Electrician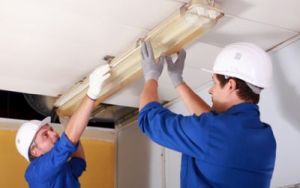 Electrical Service Pros, Inc. is dedicated to providing the best service when it comes to electricity in your Massachusetts home.
Listed below are just a few of the reasons that homeowners call us everyday:
No Risk, Up Front Pricing - You know the exact price first. before we begin the job. No surprises!
24 Hour Emergency Service - We understand that electrical problems don't always happen during regular business hours, that is why we have an electrician available for you 24 hours, seven days a week.
Our Service Agreements - We offer a lifetime warranty on every repair and product we service for our service agreement members. Never pay for an electrical repair again! Learn more about our Service Agreements.
We Respect Your Home - Our electricians leave your home clean. They arrived supplied with rubber gloves, booties, clean uniforms, vacuum cleaner and cleaning supplies. They use these to protect and respect your home.
Satisfaction Goals - Our purpose is to establish a relationship with every customer based on quality performed with professional integrity in the electrical service industry.

Recent Articles
4 Common Electrical Panel Complications
Problems with electrical systems can be difficult and even dangerous to diagnose, so scheduling electrical repairs with experienced electricians is the way to go if appliances, outlets, or electrical panels are on the fritz in Hadley homes […]
Read More
Electrical Safety Inspections – Safety is Priority Number One
A common mistake people make is thinking that their general home inspection provides enough data to make a fair assessment about the current state of the electrical system. This simply is not true, and when it comes to your residential electrical work, you never can be too safe. A home inspector has a very important […]
Read More
If you are looking for a professional electrician today, please call 413-642-6626 or complete our