Electrical Repair Services Done By Pros!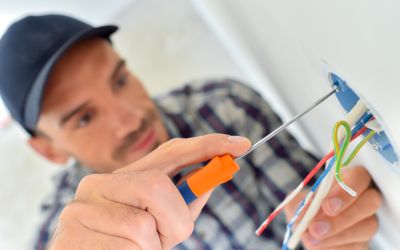 Our professional Massachusetts electricians can come to your home and diagnosis any electrical troubleshooting problem you may be having. Our trucks are fully stocked to ensure that we have the right tools and materials to ensure the best service for your Massachusetts home.
We will do all your electrical work personally to guarantee an excellent job for you. All the electrical materials we install for your project will be the finest that are available.
At Electrical Service Pros, we use a system or approach that allows our technicians to logically and systematically analyze a circuit and determine exactly what is wrong. We also understand and effectively use tools such as prints, diagrams and test instruments to identify defective components.
If you have any of the problems listed below, it may be time to call a professional electrician:
Electrical outlets not working or ...
An outage from a circuit breaker tripping or ...
Several lights that blink strangely or ...
Receptacles dead because a tripping GFCI won't reset...
Or three-way switches having trouble?
We Provide Electrical Repair Services in the following areas:
Agawam, MA - Amherst, MA - Belchertown, MA - Chicopee, MA - East Longmeadow, MA - Easthampton, MA - Granby, MA - Hadley, MA - Holyoke, MA - Huntington, MA - Longmeadow, MA - Ludlow, MA - Northampton, MA - Palmer, MA - Russell, MA - South Hadley, MA - Southampton, MA - Southwick, MA - Springfield, MA - Ware, MA - Westfield, MA - West Springfield, MA - Wilbraham, MA

Recent Articles
4 Common Electrical Panel Complications
Problems with electrical systems can be difficult and even dangerous to diagnose, so scheduling electrical repairs with experienced electricians is the way to go if appliances, outlets, or electrical panels are on the fritz in Hadley homes […]
Read More
Electrical Safety Inspections – Safety is Priority Number One
A common mistake people make is thinking that their general home inspection provides enough data to make a fair assessment about the current state of the electrical system. This simply is not true, and when it comes to your residential electrical work, you never can be too safe. A home inspector has a very important […]
Read More
If you are looking for electrical repairs for your home today, please call 413-642-6626 or complete our