Important Tips for Maintaining Your Outdoor Lights During Winter Weather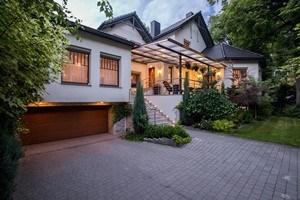 Winter in Amherst is one of those times of years you need your outdoor lighting the most. Dark settles in much earlier during the winter, and you want the safety and security that exterior lighting has to offer. Take important steps to help your landscape lights weather the cold temps so you don't have to sacrifice any component of your lighting system.
Safety First, Lighting Second
Above all else, remember when coming into contact with your landscape or security lighting, always practice safety. Do not touch any element of the lights or wiring if your hands are wet or if it may be in contact with moisture. Turn the lighting off at the main source and call in a pro, to err on the side of caution.
Like the headlights of your car get dirty from minerals, deposits, salt – so can the lenses of your lights. Keep them wiped down in order to get the best and most effective output from them. This can be especially essential for any fixtures that are low to the ground. Use a nonabrasive cleaning cloth. The more often you do this, the easier it will be to remove the buildup.
This is a good time to check and replace bulbs. It can be tempting to let one dead bulb linger. Unfortunately, before long more bulbs go dark and, before you know it, half your lighting system is out. Before bad weather hits, and between winter storms, make it a point to replace bulbs as needed.
Address the need to secure exposed wires. Wires often become exposed from the ground freezing and thawing. In order to protect them and ensure they remain functional, it is vital to secure exposed wires.
The smart thing to do is let a professional check your system before the start of winter, and call if you notice anything more serious than a burnt out bulb. In fact, even if you don't feel comfortable replacing a spent bulb, leave it to an industry pro.
Getting Topnotch Service
Electrical Service Pros, Inc. is a team that has earned the reputation that we have, by going above and beyond to address the service needs of our clients. We take great pride in all that we do and that is clear from the customer approval rating we have. We want to help you feel safe and secure, all winter long, by helping make sure that your outdoor lighting system burns brightly through those cold and dark nights.
If you are looking for a professional electrician, please call us today at 413-642-6626 or complete our