4 Common Electrical Panel Complications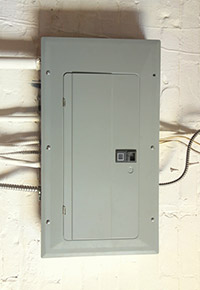 Problems with electrical systems can be difficult and even dangerous to diagnose, so scheduling electrical repairs with experienced electricians is the way to go if appliances, outlets, or electrical panels are on the fritz in Hadley homes. Being informed about electrical panel complications that you could encounter is a smart move, and any problems you detect should be addressed quickly to prevent permanent damage to your appliances, electrical system, and home. Electrical panels should last 20 to 30 years, but if yours is malfunctioning, you should consider repairing or a panel upgrade regardless of how old it is. Aging isn't the only cause of a faulty electrical panel, so watch out for overcrowding, corrosion, overfusing, and missing handle ties.
What Are Electrical Panels?
The electrical circuit breaker panel is the main point of electrical distribution in your home. Power travels from your utility company's lines, through an electrical meter, and into the electrical panel.
Electrical Terminology 101
You may hear electricians throw around terms such as "amps," "watts," and "voltage," and knowing these terms can help you understand electrical panel diagnoses. Amps measure the amount of electricity traveling through your electrical wires, watts measure the total power an appliance uses, and voltage measures the force of electricity traveling through your electrical wires.
Electrical Panel Problems to Look Out For
Under-Powered or Overcrowded Electrical Panels – To maintain safety, make sure that your electrical panel is neither under-powered nor overcrowded. A standard breaker panel can manage about 100 amps, but electricians are recommending 200-amp panels for modern homes. If you require more circuits, you should definitely upgrade to a larger panel.
Corrosion – Be very diligent about checking for corrosion on your electrical panel. Corrosion often results from the presence of moisture or humidity. If you spot corrosion or rust stains on any part of your electrical system, hire a trained professional to assess the damage.
Overfusing – The term "overfusing" describes what happens when a load-carrying wire is too small for the fuse or breaker that it's connected to. When overfusing occurs, the circuit breaker won't trip when overloaded. This problem presents an electrical fire hazard, so it should be taken very seriously.
Missing or Damaged Handle Ties – Handle ties are components that connect breaker switches on a 2-pole breaker. Only handle ties should connect these breaker switches, and if the handle switches are missing or damaged, they must be replaced quickly.
Whether your electrical panel is overcrowded or aging, electricians at Electrical Service Pros, Inc., a trusted electrical company, can make sure that the electrical system in your Hadley home is updated and safe.
If you are looking for a professional electrical panel upgrade service in the Hadley area, please call us today at 413-642-6626, or complete our online request form.